New CD! (oct 2018)
Chambery – Tobias Klein
chambermusic for bass clarinet


musicians: bass clarinet: Fie Schouten
Jelte Althuis bass clarinet, Goska Isphording harpsichord, Marko Kassl accordeon,
Bart de Vrees percussion, Tarmo Johannes flute, Taavi Kerikmäe piano,
Arjan van Asselt soundtechnician
label: ATTACCA (ATT 2018156)
buy the CD at one of our concerts, dates: Basklarinet Festijn 2018
order CD (€15): email info@bassclarinet.nl
buy download/listen fragments via cdbaby iTunes or Bandcamp: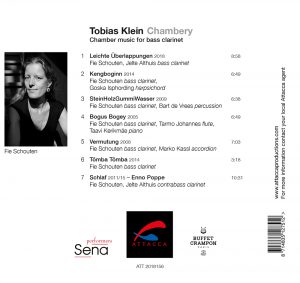 reviews | recensies | reactions:
TheWholeNote (Toronto, Canada) febr 2019
"…Bogus Bogey, a trio with piano and flute (2005), …. it's just pretty cool..Extremely well played, Ms. Schouten et al." lees helemaal
24 jan 2019 @ Concertzender, Vrije Radicalen (Samenstelling Arjan v Sorge)
luister na
Jazzepoes Kris | Vanderstraeten
jan 2019:
"Zeer gevarieerde composities vol verrassingen uitgevoerd door uitzonderlijke muzikanten. Muziek die wat tijd nodig heeft en daarna zal bijblijven en gekoesterd wordt , zoveel is zeker."
lees helemaal

Opduvel | Eigenwijs over muziek en herrie

22 jan 2019
:
Tobias Klein en Fie Schouten zijn partners en daarnaast ambassadeurs van een prachtig instrument: de basklarinet. Het album 'Chambery' bevat zes kamermuziekwerken van Klein: een trio, vier duo's en een solostuk, allemaal met basklarinet, bespeeld door Schouten. De vernuftige en gevoelvolle composities laten het instrument in volle glorie horen.
lees helemaal

Frits van der Waa 17 jan 2019, Volkskrant:
"
Wat gaat Chambery, een cd met werk van de Nederlandse rietblazer en componist Tobias Klein, heerlijk van start. In zijn Leichte Überlappungen bestoken twee basklarinetten elkaar met boventonen in dansante, maar ongrijpbare ritmes…. als een 21ste-eeuwse fanfare. Net als in de andere composities is de hoofdrol weggelegd voor basklarinetkampioen Fie Schouten.
"
lees helemaal

Jan de Kruiff blog:
"
Wat een fraaie waaier aan kleuren en speeltechnieken wordt hier ontwikkeld met steeds de fantastische Fie Schouten als muzikantesk en uiterst virtuoos middelpunt. Ze toont aan hoe aangenaam eigentijdse muziek kan zijn.
"
lees helemaal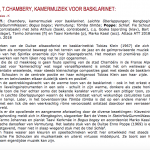 Herman te Loo
24 dec 2018 Jazzflits:
"
In dit stuk (Vermutung) wordt ook het meest gebruik gemaakt van de klankkleuren van de instrumentatie. De zuchtende en steunende accordeon biedt fascinerend weerwerk voor de basklarinet. En net als in alle stukken is er een goed evenwicht tussen welluidende melodieën en schurende klankelementen.
"
lees helemaal

Joep Christenhusz NRC 5 dec 2018: 4*** "Schoutens vertolkingen zijn spot-on in een breed scala aan speeltechnieken…veelzijdigste klarinettist van Nederland…ritmische bravoure..ontspannen groove"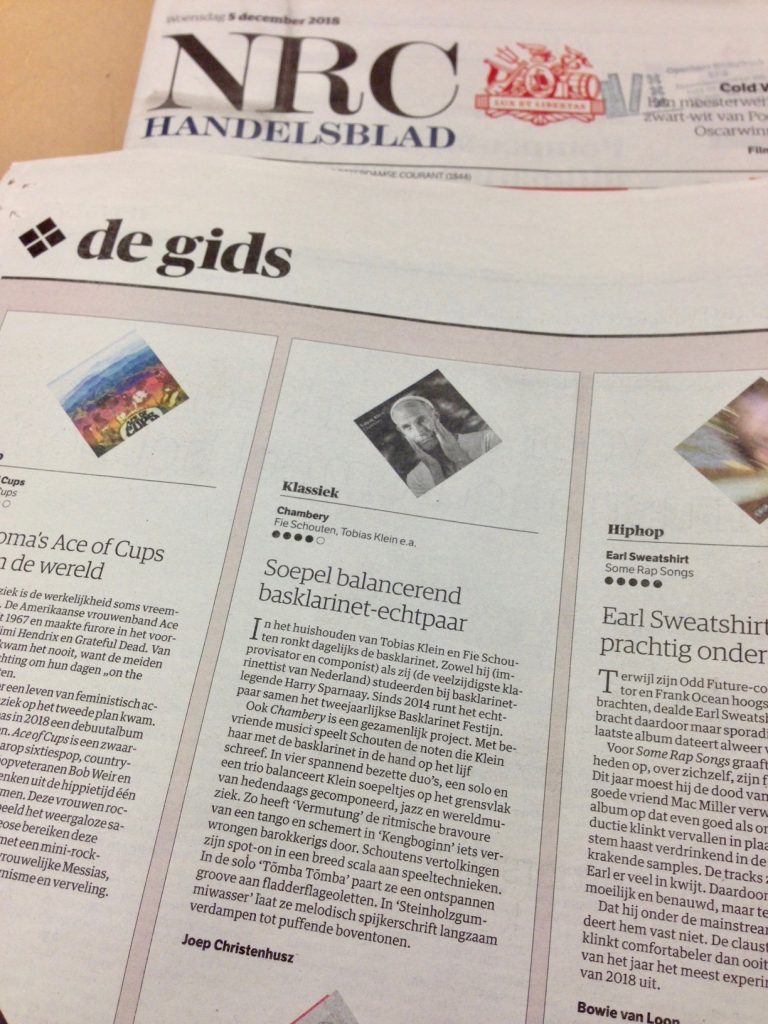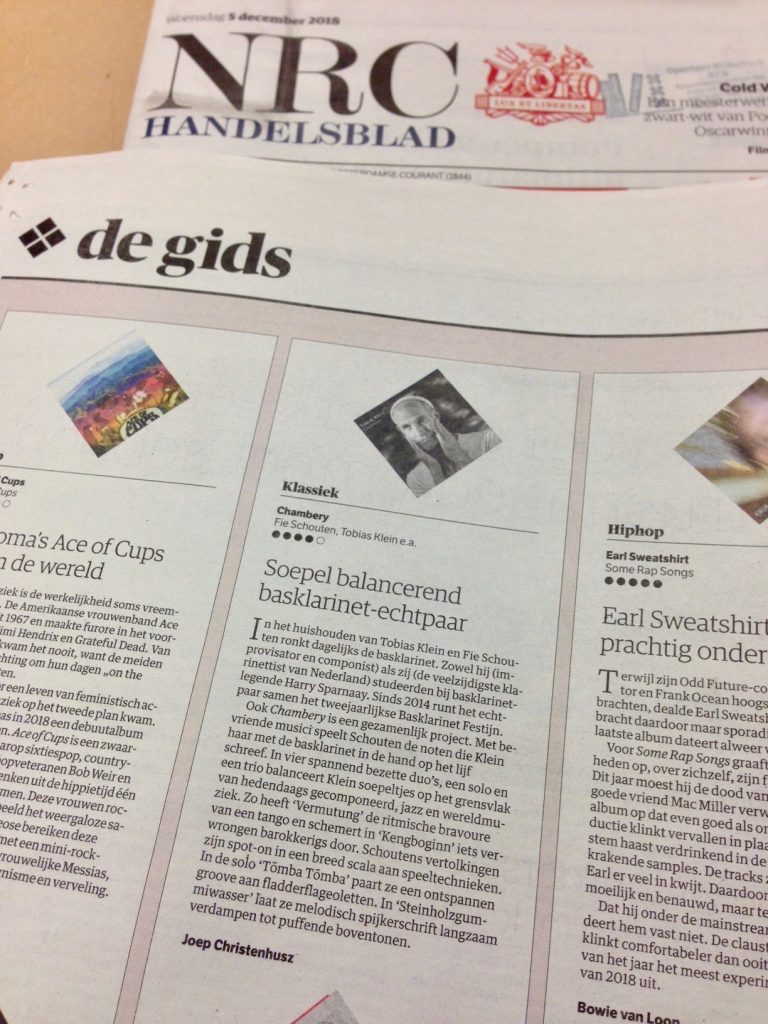 Erik Voermans in Het Parool 17 nov 2018: "gespeeld door topkrachten als basklarinettisten Fie Schouten en Jelte Althuis…vrolijkmakende betovering die van de klanken uitgaat"
"The work of a playful mind … cheerful enchantment emanating from the sounds … performed by top-notch players such as Fie Schouten and Jelte Althuis…"
"excellent interpretation! You are a great professional"
"mooie cd, het verveelt geen moment!"
Wim Maasakkers nov '18 Omroep Helmond: "Fie Schouten bespeelt al lang de basklarinet, en zij weet avantgarde nog leuk te maken ook, en dat hoor je hier ook weer. Dat is natuurlijk voor een groot deel te danken aan de composities van Klein, maar ook aan virtuositeit van Schouten, die klassiek geschoold is, maar tegelijk de soepelheid en de subtiliteit van een jazzmusicus heeft. Openingstrack 'Leichte überlappungen' …. je wordt er meteen door meegesleept. Dat geldt overigens voor alle composities – passie en melancholie klinken overal door."
"Over 20 years, the bass clarinet is the most favorite clarinet of Fie Schouten. She is well versed in the avant garde and knows how to make it sound attractive and beautiful as you can hear on this CD. The quality of Klein's  compositions suit her supple and subtle virtuose use of Jazz traditions while trained as a classical musician. The opening track 'Leichte Überlappungen' invites you into a special  cosmos of passion and melancholy characterizing all the compositions on this CD."
radio interview 6 nov 2018 naluisteren
Holly Moors Moors Magazine okt'18 (in Dutch)
"Een mooier pleidooi voor de basklarinet dan dit prachtige album zul je zelden tegenkomen. Mooi mooi."
lees & luister
28 nov 2018 20:00 aandacht voor de nieuwe cd Chambery @ Concertzender link