onderdeel Basklarinet Festijn 2018
www.basklarinetfestijn.nl
Workshopdag voor avontuurlijke amateurmusici!
ALLE KLARINETTEN WELKOM!
Speel je kort of lang? Dat past allemaal.
Er wordt samengespeeld, gezamenlijk op klank en zuiverheid geoefend, geïmproviseerd, muziek nemen de docenten mee.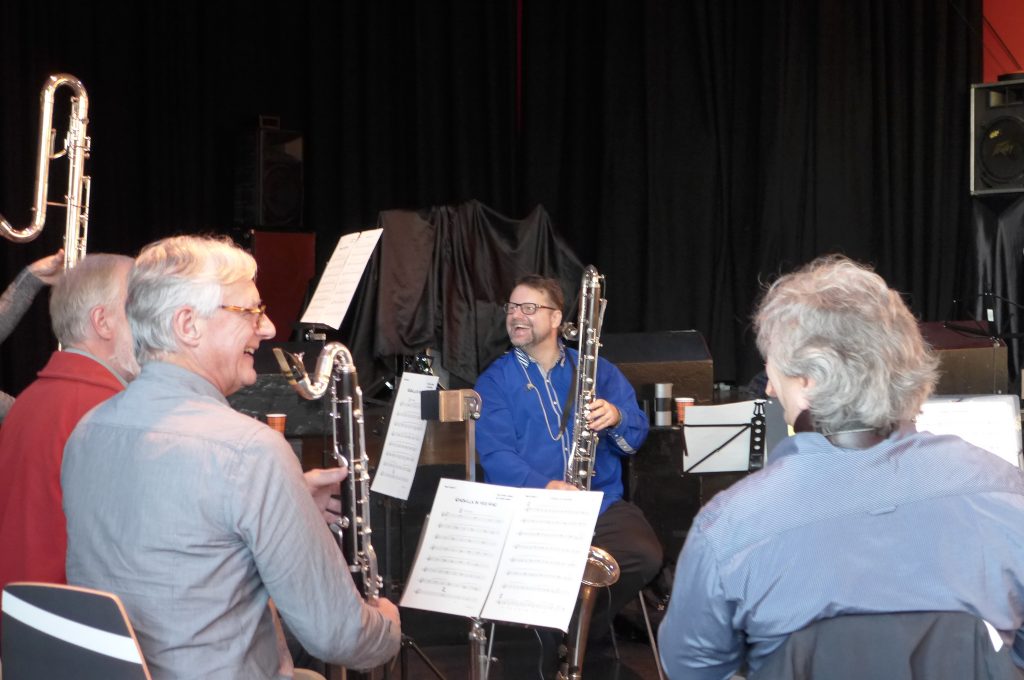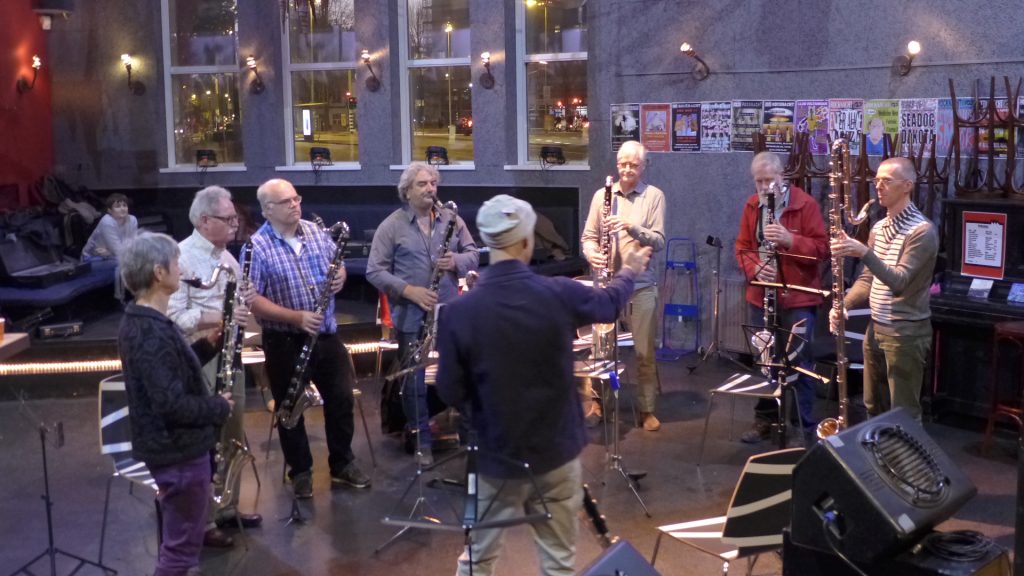 Met 4 bijzondere docenten: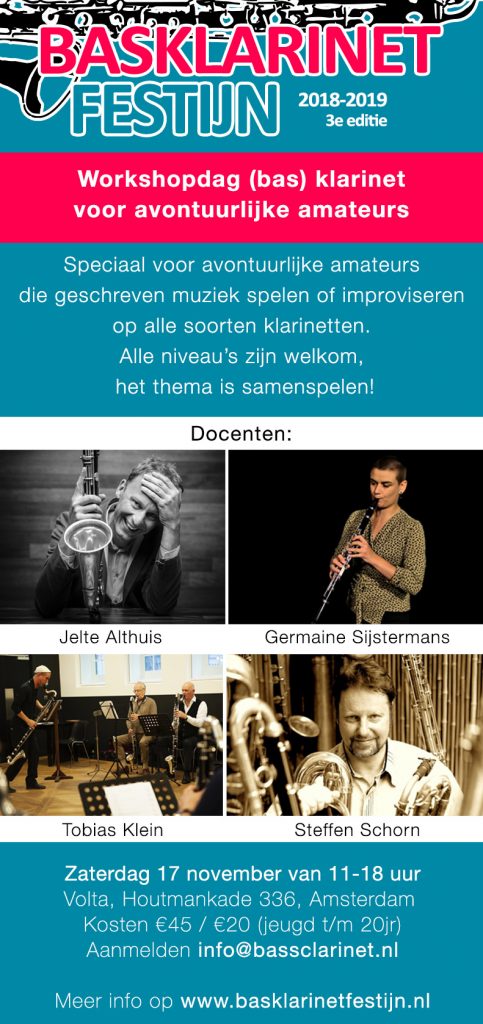 Calefax-basklarinettist Jelte Althuis, de Duitse Steffen Schorn, die vele grote bands leidt, Germaine Sijstermans van een jongere generatie met nieuwe ideeën en Tobias Klein, improvisator en ervaren docent.
Basklarinettiste Fie Schouten is uw gastvrouw en ook altijd in voor een praatje of advies.
Iedereen krijgt van alle 4 de coaches een keer les.
Tijd: 11-18u
Locatie: Volta, Houtmankade 336, Amsterdam route
Nb. na afloop van de workhopdag is er om 20:30 (op loopafstand van Volta) in de Roode Bioscoop een concert door Steffen Schorn, Germaine Sijstermans en duo Joris Roelofs-Anton Goudsmit (gitaar). De Roode Bioscoop heeft in november ook een eigen restaurant… tickets avondconcert
Kosten €45 / €20 (jeugd t/m 20jr)
Meldt u zich dus op tijd aan via info@bassclarinet.nl
Docenten workshop:
Steffen Schorn is dirigent, docent, componist saxofonist/klarinettist en specialist op de contra-altklarinet.
Jelte Althuis is lid van het Calefax Rietkwintet, waar hij naast basklarinet ook bassethoorn en contrabasklarinet speelt. Naast uitvoerend musicus is Jelte ook arrangeur en coach.
Germaine Sijstermans is een (bas)klarinettiste uit Heerlen met een passie voor hedendaagse muziek. Ze is sinds 2012 vaak te horen in productiehuis Intro Maastricht en is docent.
Tobias Klein is basklarinettist/saxofonist, componist en docent. Hij heeft samen met Fie Schouten de leiding van het Basklarinet Festijn.
Eerdere workshopdagen die door ons  zijn georganiseerd:
-Tijdens Basklarinet Festijn 2016 kijk hier voor foto's beschrijving en korte video.
-Workshopdag in 2015, kijk hier voor een verslag
Artistiek leider van het Basklarinet Festijn, Fie Schouten, zal u welkom heten op 17 nov!