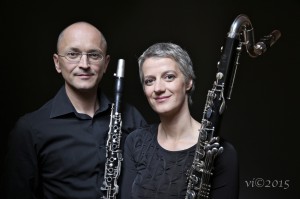 MASTERCLASS & CONCERT
Heinz-Peter Linshalm & Petra Stump
(for English scroll down)
KLARINET
BASKLARINET
KAMERMUZIEK
Prins Claus Conservatorium Groningen

25 januari 2016 Masterclass 11.30 – 17.00
26 januari 2016 Masterclass 10.00 – 16.00
27 january 2016 Concert 20:00 > tickets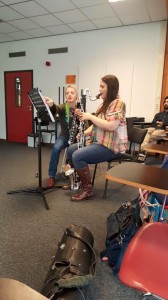 Deze masterclasses zijn bedoeld voor klarinet- en basklarinetstudenten en gevorderde amateurs.
Je kunt je aanmelden als solist, maar ook al kamermuziekensemble waar de (bas)klarinet een rol speelt
De masterclasses zijn openbaar toegankelijk.
Petra Stump en Heinz-Peter Linshalm (AT) vormen sinds 2003 een klarinetduo. Er is een enorme hoeveeelheid werken voor hen geschrevendoor componisten als Chaya Czernowin, Beat Furrer, Bernhard Gander en Jorge Sanchez-Chiong.
Zij brachten meerdere CDs uit, waaronder 1+1 (Billone) op het hedendaagse muzieklabel Kairos in 2006.
In datzelfde jaar kregen zij de Erich Schenk prijs door de Mozartgemeinde Wien.
Zij maakten een klarinetmethode Clarinet Update met hedendaagse klarinetmuziek en zij doceren klarinet/basklarinet en kamermuziek aan de Universität für Musik und darstellende Kunst in Wien.
Kosten:
– Conservatoriumstudenten gratis, aanmelden voor 5 januari 2016
– Amateurs: zie website Prins Claus Conservatorium
Aanmelden via: Fie Schouten
English
MASTERCLASS
CLARINET | BASS CLARINET | CHAMBERMUSIC
Prins Claus Conservatorium Groningen

25 januari 2016 Masterclass 11.30 – 17.00
26 januari 2016 Masterclass 10.00 – 16.00
27 january 2016 Concert 20:00 > tickets
The masterclasses are meant for clarinet- and bass clarinetstudents.
You are welcome with classical and contemporary repertoire, as a soloist or with a chambermusicensemble where the (bass)clarinet is involved.
The masterclasses are open to public.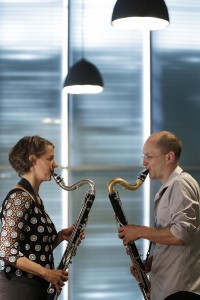 Heinz-Peter Linshalm & Petra Stump (Austria)
In 2003, the composer Bernhard Gander set the cornerstone for the two musicians' future collaboration as a duo with Mr. Vertigo for two basset horns and tape recorder. The combination of two instruments of the clarinet family, in particular two bass clarinets, has sparked the interest of other contemporary composers such as Pierluigi Billone, Beat Furrer, or Jorge Sánchez-Chiong and inspired them to collaborate with the Duo Stump-Linshalm.
In the fall of 2006, the duo caused a stir with a unique project: 1+1=1 for two bass clarinets, written and dedicated to the duo by the Italian composer Pierluigi Billone. They performed the world premiere of this more than 70-minute-long composition at the wien modern festival and released a CD of the studio recording of the piece on the KAIROS label .
Other successes include: Erich-Schenk prize by the Mozartgemeinde Wien in 2006, Prize Winner of the Concours Nicati, competition for professional musicians
 of contemporary music Switzerland 2011.
Petra Stump and Heinz-Peter Linshalm are teaching at the University of Music and Performing Arts in Vienna: clarinet/bass clarinet and chambermusic.
Costs:
– free for conservatory-students, sign in before 5. january!
Sign in via: Fie Schouten