In january 2015 we opened a competition for composers until 30 years.
58 pieces were sended to us.
Jury:
Gijsbrecht Royé – composer
Bart de Vrees – composer / percussionist
Harry Sparnaay – bass clarinetist
Fie Schouten – bass clarinetist
Stephan Vermeersch – bass clarinetist
The winning composition is part of the bass clarinet album with 11 miniatures for bass clarinet published by Donemus in july 2015 BUY ALBUM
1. Jose Carlos Villena (Spain) – Epigrammi su Giotto, bcl solo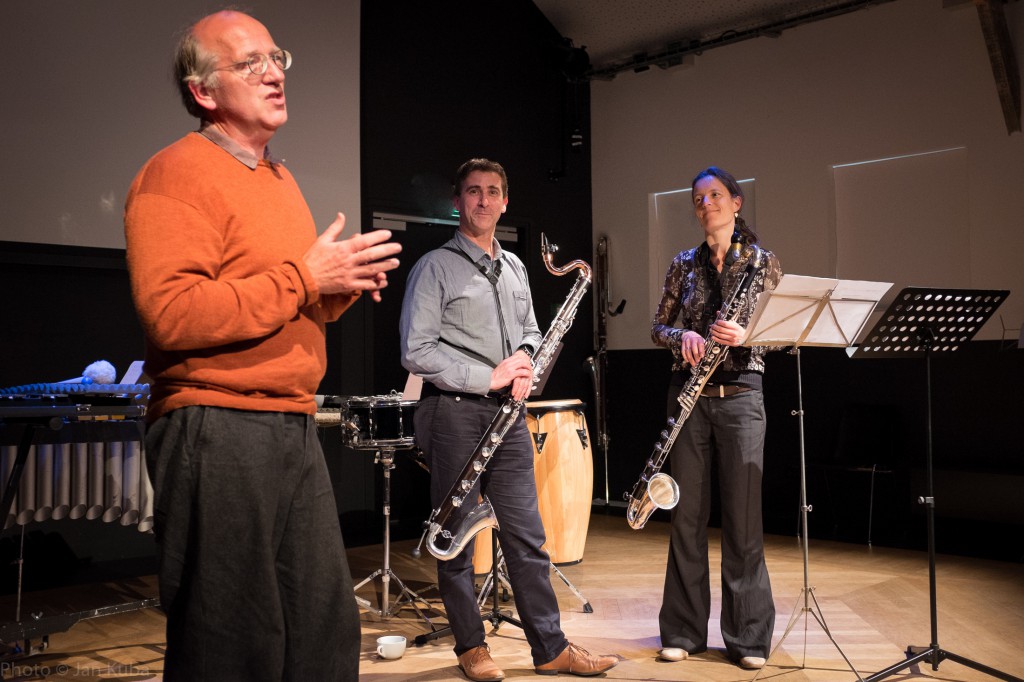 Gijsbrecht Royé speaking about the competition and bass clarinetists Stephan Vermeersch and Fie Schouten waiting to perform the 5 movements of the winning composition
12 pieces are performed during Basklarinet Festijn 2016 at Gaudeamus Sessie #10 17.1.2016 Utrecht NL
We hope many of the other pieces will find their way to players.

Bass clarinet set 1
Stepen de Filippo (Australia) – Azande bcl Fie Schouten
Lucas Oickly (USA) – Sugar Tree bcl Ken Kunita
Stephen Jackson (USA) – Tribal Soundings bcl Fie Schouten & Daphne Schrama
Bass clarinet set 2
Jose Carlos Villena (Spain) – Epigrammi su Giotto bcl Fie Schouten
Andrea Montalbano (Italy)  – Little Waves bcl Daphne Schrama
Steven Heelein (Germany) – Marmalade bcl Fie Schouten & Daphne Schrama

Bass clarinet set 3
Marlon Santos (Cuba/Argentina) – Pulsions bcl Ken Kunita
Elizaveta Sanicheva (Russia) – The Touch bcl Fie Schouten
Tetsuya Yamamoto (Japan) – Ice and Charcoal bcl Fie Schouten & Ken Kunita

Bass clarinet set 4
Roger Zare (USA) – Tinnitus bcl Ken Kunita
Aldy Maulana Firmansyah (Indonesia) – Pakuan II bcl Daphne Schrama
Molly Monahan (USA) – Fruity juice bcl Schouten, Schrama, Kunita