Eerstvolgende Basklarinetweekend met oa workshops voor amateurs: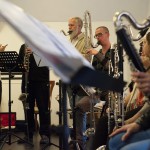 25-27 nov 2016 Intro in Situ Maastricht
It's all about Bass clarinet
Thema: basklarinet in context
Kom met je kamermuziekensemble of band (met minimaal 1 basklarinettist) voor een coaching en laaf je aan de optredens door professionals (een een biertje tussendoor

Individueel aanmelden kan natuurlijk ook. Speel je gewoon besklarinet, maar wil je het avontuur aan? Kom vooral.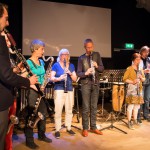 Concerten:
vrijdag 25 november
Boi Akih Liquid Songs with Tobias Klein bassclarinet, contrabassclarinet & Ryoko Imai classical Western and Asian percussion.
zaterdag 26 november
Basklarinet Festijn concert met 10 basklarinettisten trailer
zondag 27 november
Germaine Sijstermans, Capriccio Clarinet Choir olv John de Beer
Meer info tzt op deze website! Of ga naar Intro in Situ
Aanmelden, email naar: info@bassclarinet.nl
De vorige basklarinetdag:

Trailer Basklarinet Festijn met 10 basklarinetten: